Other than you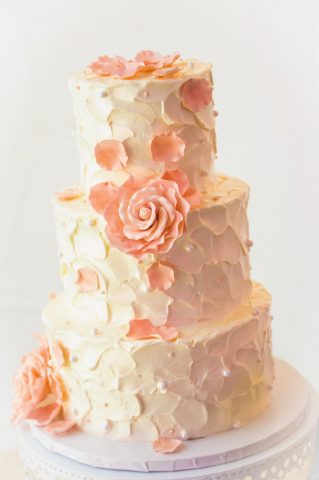 and your new spouse, your wedding cake will be a focal point of your reception. Cutting the cake and sharing those first bites as newlyweds is a traditional element which dates back to ancient Rome! Most couples see the cake as another reflection of their wedding design and want it to be as beautiful as it is delicious. When budgeting and ordering your wedding cake, there are some tips to keep in mind.
1. First rule of thumb – don't over order. There is always extra cake at every wedding. All of your guests won't eat it, while a few may eat two slices. Chat with your planner and baker to order the correct size. Ordering too much means you'll have decide what to do with leftover cake, and it's a wasted expense.
2. One of the biggest influences on cake budget is shape. With today's culinary designs, there are many to choose from: round, square, tilted, hanging, etc. As a rule, round cakes are less expensive than cakes with squared corners simply due to labor costs when icing and finishing the edges. Any specialty shape will undoubtedly increase the cost for the same reason.
3. Another budget factor is the number of tiers. Even if you're having a small wedding, you can have multiple tiers, but this will increase cost. Cake is heavy and stacking layers requires a bit of construction for stability. If you're having a small cake and want more tiers but need to save on cost, discuss the option for a faux tier decorated to resemble the rest of the cake in order to be budget-friendly.
4. Do you want the traditional keepsake top tier for your one-year anniversary? It's a romantic tradition, but it's not always practical if you're having a destination wedding.  One option for destination couples is to serve the top tier at brunch the next day, or you're having a going away dinner or post-reception party.  Sometimes the only bites of cake you get to enjoy at your wedding are those in the cake cutting ceremony, so sharing your top tier the next day is a fun way to truly enjoy your cake.  Otherwise, if budget is a concern, skip the keepsake layer. If you want a cake to celebrate your one yea
r anniversary, you can always order a fresh one at your local bakery at home.
5. Having multiple tiers allows you to offer your guests a variety of flavors and fillings. However, keep in mind that specialty flavors or premium fillings will add to the cost.  Many bakers will allow clients to choose up to two flavors at no additional cost, and most have a list of their standard versus specialty flavors.  Traditional flavors remain popular such as red velvet, chocolate, or carrot cake.  Tropical flavors are also popular with our destination clients, with choices ranging from pineapple to mango, key lime or coconut. It's also perfectly fine to have a delicious vanilla cake!
6. The decoration on your cake is where your personality and wedding design can shine.  But this is where costs can be hard to control.  The more elaborate the decorations, the more expensive the cake. For instance, fondant will cost more than buttercream, due to labor costs. Pinterest is a great resource to find photos and inspiration for your cake design.  Be sure to share those with your planner and/or baker. And if you find something that you love that is simply out of your budget, ask your baker for a budget-friendly option to imitate it.  Don't forget your cake topper! You can be as creative as you want: anything from fresh flowers to monograms to shells to the traditional bride and groom. Destination clients may want to ship a topper directly to their planner or baker rather than traveling with it.  Be sure to share photos and dimension info so that your planner and baker can be sure your topper will fit the cake (and won't be too heavy or need support).  
Finally, if cake isn't your thing, talk with your planner about other dessert options.  It's much more common now to see pies, cookies, macarons, and even donuts at weddings.  It's your day – let it be a reflection of your tastes and personalities.  At Simple Weddings, we have cultivated long-term relationships with several outstanding area bakers.  We'll help match you with a baker that fits your design and budget.